October 22 2009
In and Out of Amsterdam at MoMA
July 15, 2009 to October 26, 2009 at the Museum of Modern Art in New York, featuring artists Bas Jan Ader, Robert Barry, Alighiero e Boetti, Daniel Buren, William Leavitt, Sol LeWitt, and Lawrence Weiner.
Read the New Yorker article
here.
November 17 2008
Bas Jan Ader documentary released on DVD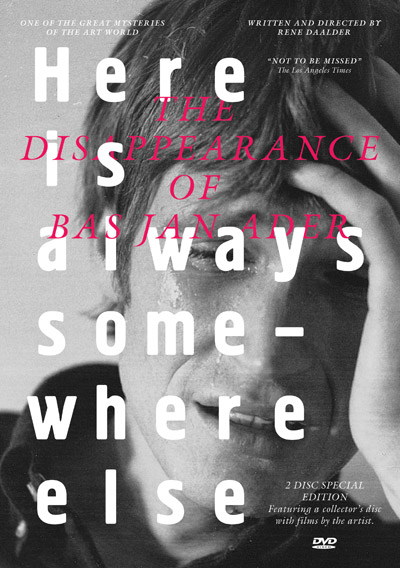 From theofficial website.
Cult Epics and AgitPop Media proudly present
Here Is Always Somewhere Else,
the critically acclaimed documentary about enigmatic Dutch/Californian artist Bas Jan Ader (1942-1975), whose daring conceptual performances culminated in his mysterious disappearance at sea.
As recounted through the eyes of fellow emigrant Rene Daalder, the story becomes a sweeping overview of contemporary art as well as an epic saga of the transformative powers of the ocean.
For the first time ever, the official film oeuvre of Bas Jan Ader is being made publicly available in this unique two-disc edition, sure to inspire a new generation of artists, thinkers and dreamers alike.
Purchase a signed copy
May 10 2008
Documentary Screening at UCSB
Here Is Always Somewhere Else: The Life of Bas Jan Ader
University of California at Santa Barbara
Tuesday, May 13 / 7:30 PM / Buchanan 1940
Film about the life and work of Dutch/Californian conceptual artist Bas Jan Ader, who in 1975 disappeared under mysterious circumstances at sea in the smallest boat ever to cross the Atlantic. As seen through the eyes of fellow emigrant filmmaker Rene Daalder, the picture becomes a sweeping overview of contemporary art films as well as an epic saga of the transformative powers of the ocean.
More info
May 9 2008
Video After Video in the Post-Media Age at UCSB
Roundtable discussion on contemporary video and film art led by leading curators, critics and artists, including Jenny Schlenzka (MoMA); Rudolf Frieling (SFMOMA); Terrence Handscomb; Erika Suderburg (UCR); Darrin Martin (UCD); Rene Daalder; Clemens von Wedemeyer. Moderators: Sven Spieker (UCSB); Laurie Monahan (UCSB).
Video After Video in the Post-Media Age
University of California Santa Barbara
Wednesday, May 14 / 4:00 PM
McCune Conference Room, HSSB 6020
More info
April 17 2008
Conceptual Art Symposium at UCLA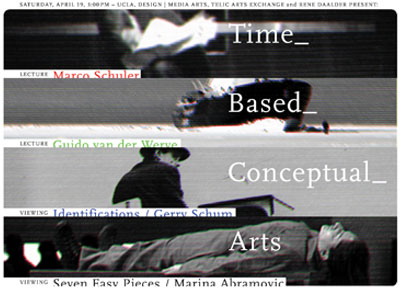 Time_Based_Conceptual_Art
Symposium at the EDA, Broad Art Center
240 Charles E. Young Drive, Los Angeles
April 19, 2008: 3pm to 9pm
Conceptual art films seem to be exploding all over Los Angeles. The Getty Center mounted an ambitious show called CALIFORNIA VIDEO, featuring the work of 58 past and present local video artists. Inspired by a unique video archive the Getty acquired from the Long Beach Museum of Art, which was one of the few institutions in America that has supported time-based media.
And additional 31 artists are represented in a much smaller but equally ambitious exhibition called GRAVITY ART at TELIC Arts Exchange. GRAVITY ART was inspired by a documentary Rene Daalder made about Dutch/Californian conceptual artist Bas Jan Ader, who was one of many important filmmakers during the 1960s.
The Time_Based_Conceptual_Art symposium, held in conjunction with the GRAVITY ART exhibition, will add the work of over 20 additional artists to this Southern Californian resurgence of time-based conceptual art.
Schedule
3:00 pm opening reception
3:30 pm introduction by curator Rene Daalder
4:00 pm lecture by artist Marco Schuler (De.)
5:00 pm lecture by artist Guido van der Werve (Nl.)
6:15 pm screening of IDENTIFICATIONS by Gerry Schum
7:15 pm screening of SEVEN EASY PIECES by Marina Abramovic
More info
April 10 2008
Willem de Ridder speaks at the Gravity Art exhibition
April 12, 2008 at 6:00 pm at TELIC Arts Exchange, Los Angeles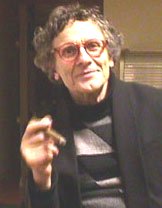 Willem de Ridder has been pioneering his entire life in the arts and the media. In the beginning of the sixties he brought in Holland all the modern young composers together in the MES (Mood Engineering Society), which resulted in the very first art performances and happenings. He became chairman for Northern Europe of Fluxus, started the First European Mail Order Warehouse for Fluxus works and made with Wim T. Schippers a national television program in which Holland heard for the first time about pop art, fluxus, zero, and his own anti-art activities. In 1965 he started a national newspaper in which everybody could publish anything they wanted. It caused a revolution in medialand (like internet now). Together with friends he started Paradiso and Fantasio, two clubs in which everybody could jump on stage and do whatever they wanted. Soon there were 150 of those clubs all over the country.
Together with English media adventurers like Jim Haynes, Germaine Greer, William Levy and Heathcote Williams he started SUCK, the First European Sexpaper, the beginning of the sexual revolution. They organised also the very first sexfilm festivals in Amsterdam, with visitors from all over the world. When he discovered how reading and writing had fatal effects on our society, he stopped with the newspapers and moved to the capital city of the image culture: Hollywood. There he started making weekly radio shows without any scripts for Holland. He developed the very first audio tours, before the walkman was invented. Then he made a radioshow in which the listeners were asked to sit in their car, turn on the radio and follow his instructions. About 30.000 of them started driving in the middle of the night having an adventure they would never forget.
Together with Max Lobckovicz, Shirley and Paul Eberle he made the first magazines in America in which everybody could publish anything they wanted about their sexlife. With Queen Adrena he introduced the first erotic telephone lines. He also made the very first magazine with sound in Hollywood, and so he went on and on.
Willem de Ridder's lecture will be followed by a 7pm screening of the Bas Jan Ader documentary "Here Is Always Somewhere Else."
March 14 2008
Gravity Art exhibit reviewed in the LA Times
By David Pagel, Special to The Times
Published March 14th, 2008
Read full text below, or
link to the article
"Gravity Art" is a great little show that presents video art at its very best: direct, accessible, unpretentious and user-friendly. Organized by guest curator Rene Daalder for Telic Arts Exchange, this whip-smart selection of 31 videos made around the world over the last 40 years is also a refreshing departure from the overproduced emptiness of so much contemporary video, which often exploits movie-size projection, pretends to be installation art and lasts way too long.
In contrast, "Gravity Art" is concise, compelling and stripped to the basics. In the center of the darkened gallery stands a set of metal shelves shaped like the letter X. Mid-size monitors play all the videos all the time. Most of these videos are short. Most are black-and-white. And most are so visually engaging that sound is an afterthought. It comes through as a collective hum and consists mostly of objects and bodies making contact. Dialogue is beside the point.
The atmosphere is charged and decidedly social. It's hard not to blurt out to strangers, "Come see this!"
Nearly all the videos make you want to watch them more than once, particularly the six delightfully down-to-earth examples from the early 1970s by Bas Jan Ader (1942-75) and the loopy exercises in futility by Vito Acconci, Richard Serra, Gino de Dominicis and Liza May Post. Works by Monsieur Moo, Jacob Tonski and Marco Schuler mix slapstick and stoicism. And Pascual Sisto's "No Strings Attached" uses simple special effects to transform a common chair into a sort of spastic Fred Astaire by way of the Marx Brothers.
The best thing about "Gravity Art" is that it lets its works play off one another -- and invites viewers into the gregarious, every-which-way conversation. It's not to be missed.
Telic Arts Exchange, 975 Chung King Road, (213) 344-6137, through April 26. www.telic.info.
March 7 2008
Gravity Art: March 1, 2008 to April 26, 2008
Gravity Art
exhibit
March 1st - April 26th
TELIC Arts Exchange
, 975 Chung King Rd, Los Angeles
Here Is Always Somewhere Else
Documentary film screening
March 15th, March 29th, April 12th and April 16th at 7pm
TELIC Arts Exchange
, 975 Chung King Rd, Los Angeles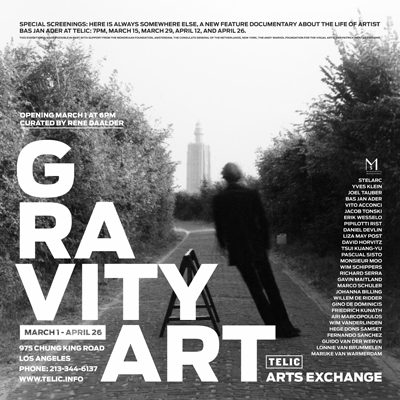 Download
the curator's statement.
From TELIC's website:
TELIC Arts Exchange becomes a lab for the production of a new genre of art from March 1 through April 26. In light of recent cultural developments, video art, performance art, and conceptual art no longer seem like esoteric, avant-garde enterprises. Social networking and content distribution platforms, such as YouTube, suggest that these forms are becoming normative modes of public address and interaction.
Gravity Art
, curated by filmmaker Rene Daalder, is an exhibition that retroactively proposes a genre based on the idea of gravity as a medium. Operating in relation to Daalder's documentary on Bas Jan Ader, Here is Always Somewhere Else, and basjanader.com, this exhibition brings together several generations of conceptual artists through the unlikely, but perfectly obvious conceit of gravity.
One dominant theme of
Gravity Art
is an interrogation of the legacy of Bas Jan Ader, the conceptual artist from the Netherlands who found himself in various art schools in Southern California in the late 1960's and early 1970's. The exhibition itself follows this trajectory: an exhibition at De Appel co-curated by Daalder in Amsterdam called Gravity in Art was a point of departure for this show at TELIC; many of the artists are Dutch; and Daalder himself emigrated from the Netherlands to Los Angeles around the same time as Ader.
Gravity Art
features work by are Vito Acconci, Bas Jan Ader, Johanna Billing, Slater Bradley, Lonnie van Brummelen, Gino de Dominicis, Hege Dons Samset, David Horvitz, Friedrich Kunath, Gavin Maitland, Monsieur Moo, Liza May Post, Willem de Ridder, Pipilotti Rist, Fernando Sanchez, Wim Schippers and Wim Vanderlinden, Richard Serra, Pascual Sisto, Stelarc, Marco Schuler, Joel Tauber, Jacob Tonski, Tsui Kuang-Yu, Marijke van Warmerdam, Guido van der Werve, and Erik Wesselo.
This exhibition is made possible in part with support from the Mondriaan Foundation, Amsterdam, the Consulate General of the Netherlands in New York, The Andy Warhol Foundation for the Visual Arts, and basjanader.com.
Rene Daalder: Curator
Aaron Ohlmann: Exhibition Coordination
Jens Hommert: Exhibition Design
Michael Sehnert: Technical Advisor
Pascual Sisto: Special thanks
March 7 2008
Screening at Ventura College, California
The Ventura College Spring 2008 Arts and Lecture Series continues with the screening of the 2007 documentary Here is Always Somewhere Else about artist Bas Jan Ader, followed by a discussion with Mary Sue Anderson, Ader's widow, and filmmaker Rene Daalder, on March 13 at 7:00 p.m.
Read Ventura College press release
Read Ventura County Star article
March 7 2008
Color Chart at MoMA
Color Chart: Reinventing Color, 1950 to Today
Museum of Modern Art, New York
March 2 to May 12, 2008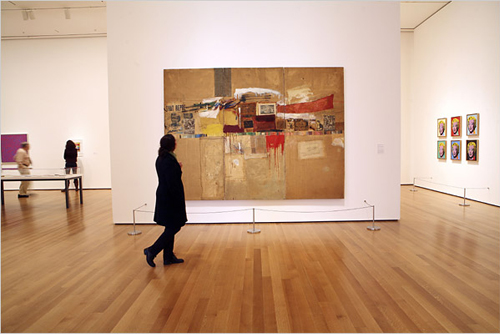 Photo: Suzanne DeChillo/The New York Times
Color Chart celebrates a paradox: the lush beauty that results when contemporary artists assign color decisions to chance, readymade source, or arbitrary system. Midway through the twentieth century, long-held convictions regarding the spiritual truth or scientific validity of particular colors gave way to an excitement about color as a mass-produced and standardized commercial product. The Romantic quest for personal expression instead became Andy Warhol's "I want to be a machine;" the artistry of mixing pigments was eclipsed by Frank Stella's "Straight out of the can; it can't get better than that." Color Chart is the first major exhibition devoted to this pivotal transformation, featuring work by some forty artists including Ellsworth Kelly, Gerhard Richter, Sherrie Levine, Damien Hirst, Bas Jan Ader, Andy Warhol, Sol LeWitt, Mike Kelley, Jasper Johns, and John Baldessari.
View online exhibition
Read New York Times article
March 7 2008
The Space Between
Museum Anna Nordlander
March 16 to June 1, 2008
Skelleftea, Sweden
The exhibition The Space Between addresses certain dynamics where simple gestures suggest an alteration and a politicization of temporal and spatial conditions inherent in the work and between the artwork and the viewer. This is manifested both in the content and in the formal structure of the work.
The artworks presented involve aspects including the politics of identity and language reinterpreted in concepts such as dimension and distance, spatial transformation and temporal shifts, but also psychological distances in the form of flights of fancy, changes in mentality and reverie.
Participating artists: Bas Jan Ader, Latifa Echakhch, Maria Lindberg, Adrian Piper, Mark Raidpere, and Gabriela Vanga. Curated by Mats Stjernstedt
February 8 2008
Bas Jan Ader at UC Berkeley
The Berkeley Art Museum and Pacific Film Archive
present the films of Bas Jan Ader and the San Francisco Bay premiere of
Here Is Always Somewhere Else
. Director
Rene Daalder
in person.
Date: Sunday February 12rd at 7:30pm at the
Pacific Film Archive Theater
.
From Kathy Geritz, film curator at PFA:
One day the father of Dutch conceptual artist Bas Jan Ader decided to ride his bicycle from the Netherlands to Jerusalem, almost on a whim. Years later, in 1975, Ader, living in the United States, would himself make a daring attempt to cross the Atlantic in the smallest boat ever. He disappeared at sea; he was thirty-three. His final performance was entitled In Search of the Miraculous. Dutch-born filmmaker Rene Daalder also seeks the inexplicable in this study of his friend Ader. The artist left behind a small body of work -some photos and films, a number of performances and actions, some texts. For conceptual art, it has an unusually romantic bent, as Ader repeatedly explored failure - falling from a roof, dropping from a tree, riding into a canal. Recently his work has been discovered by a younger generation of artists. Through discussions with some of them, including Tacita Dean and Lonnie van Brummelen, as well as with artists of Ader's generation such as Ger van Elk, Wim T. Schippers, and others, Daalder creates a fascinating portrait of an artist and an age.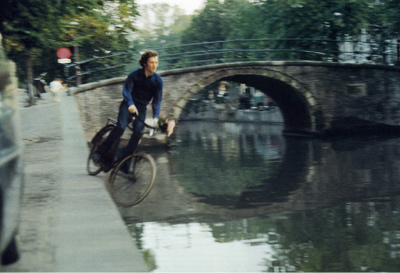 January 22 2008
Bas Jan Ader returns to Los Angeles
The American Cinematheque
presents a rare screening of six short films by the enigmatic Dutch/LA artist Bas Jan Ader (1942-1975) and the Los Angeles premiere of
Here Is Always Somewhere Else
, the critically acclaimed documentary about the artist's life.
Date: Sunday February 3rd at 7:30pm in the Egyptian Theatre's main hall. Director Rene Daalder will attend. Tickets to the screening are available through
www.fandango.com
or at the door.
Egyptian Theatre
6712 Hollywood Blvd
Hollywood, CA 90028
323.466.FILM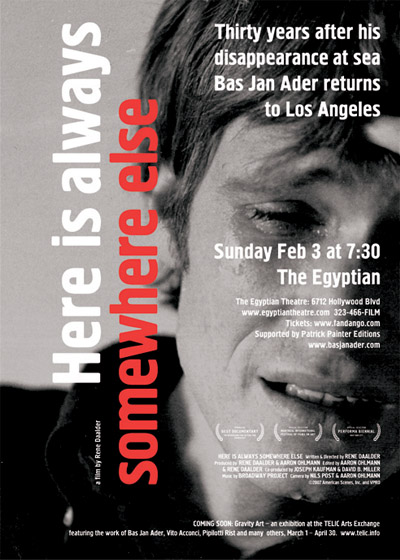 September 7 2007
Bas Jan Ader in Russia
The Dutch Punch Independent Art Festival
will be showing six of Bas Jan's films and the documentary
Here Is Always Somewhere Else: The life of Bas Jan Ader
to Kalingrad on September 12 and Moscow + St. Petersburg on September 14.
September 5 2007
Bas Jan's sailing passport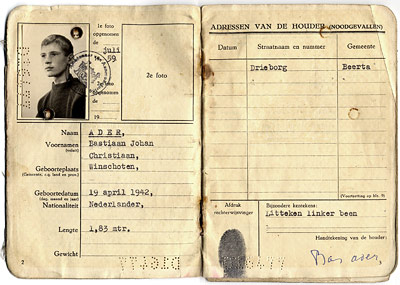 Bas Jan's boyhood sailing permit recently resurfaced, issued July of 1959. Inside it is a note written by his mother, reading "Mrs. J.A. Ader Appels gives her son, Bastiaan Johan Christiaan Ader permission to go to sea."